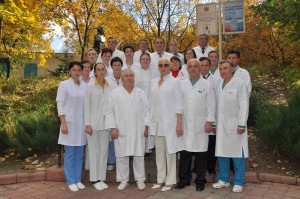 The first Pediatric Surgery Unit on the base of Republican Pediatric Hospital was founded on the initiative and with direct participation of Academician Natalia Gheorghiu in 1957.
In the same year the course of Pediatric Surgery as a part of the Department of Hospital Surgery was opened. In 1960 that course was transformed in the Department of Pediatric Surgery – the Center of Pediatric Surgery of the Republic of Moldova. The founder and the first chief of the Department was Natalia Gheorghiu, Academician of the Russian Academy of Medical Sciences, professor, Honorary Citizen who contributed greatly to the development of pediatric surgery service in the Republic of Molodva. Since 1960 a number of departments was founded: the department of thoraco-abdominal surgery, coloproctologic surgery, emergency surgery, septic surgery, neurosurgery, orthopedics and traumatology, oncology pediatrics, burn department, neonatal surgery, anesthesiology and intensive care department.
Actually the kernel of pediatric surgery in the Republic of Moldova is the Department of Pediatric Surgery, Orthopedics and Anesthesiology headed by Academician Eva Gudumac – PhD, MD, Honorary Citizen, professor since 1986.
Scientific research results satisfy the requirements of the modern medicine and are presented in a number of monographs, articles, inventions and innovations.
The main directions of scientific work of the Department are:
Congenital abnormalities and methods of their surgical correction;
Surgical infections in children;
Surgical parasitic diseases in childhood.
During the last five decades 64 theses for the degree of Doctor of Medicine (MD) were written and defended on the base of the Department of Pediatric Surgery, Orthopedics and Anesthesiology. Training courses in pediatric surgery organized regularly and headed by the professors of the staff allow to maintain the high level of pediatric surgery in the whole country.
Pediatric Surgery in the Republic of Moldova is based on modern physiologic surgery principle. Scientific researches carried out recently allow to perform an economical and efficient surgery in compliance with the patient's disease and functional resources of the growing organism. These advances are obviously reflected in improving of early and long-time postoperative evolution of surgical diseases in children.